Neotex Depot(2023)
Site-specific Installation



(More pictures and info will be updated soon) 😀️




오늘날 완벽한 신체를 향한 인간의 욕망은 과학·기술의 발전과 함께 점차 실현되고 있다. 동시대 한국 사회에서 끊임없는 젊음과 결점 없는 외모에 대한 관심, 완벽한 신체에 관한 우리의 욕망은 시대적으로 유행하는 미적 기준과 사회적 규범과 함께 상호작용하며 끊임없이새로운 유행과 뷰티 상품, 서비스를 만들어 내고 있다. 디지털 공간도 다르지 않다. 오늘날 완벽한 신체를 향한 인간의 욕망은 디지털 공간에서 대중을 흡입하는 매력을 가진 디지털 휴먼의 출현으로, 소셜미디어 공간의 다양한 뷰티 필터의 대중적 사용으로 반영되고 있다.

<NeoTex Depot>은 미래 가상 인간의 사회를 배경으로 하고 있다. 동시대 인간이 욕망하는 결점 없는 외모, 완벽한 신체에 대한 사회적 열망은 작품의 시공간적 배경인 미래 가상 인간들의 세계에서는 더 이상 효용이 없다. 가상 인간은 모두가 원하는 모습의 인물이 될수 있기 때문이다. 노화와 죽음이 존재하지 않고, 타고난 신체적 외형을 바꾸거나 설정하는데 한계가 없다. 클릭 한 번으로 인간의 외형은 쉽게 변화할 수 있는 가변적 성격을 띄고 있다.

만약 신체를 더욱 자유롭게 변형할 수 있는 날이 오게 된다면, 미래 가상 인간들의 세계에는 어떤 새로운 열망과 가치가 새롭게 등장할까. 오늘날 일상에서 사용되는 여러 종류의 디바이스들은 어떠한 새로운 양상으로 변화하여 나타날까. <NeoTex Depot>은 이러한 맥락에서 시작한다. 어느 미래 시점의 디지털 공간을 살아가는 디지털 휴먼의 웨어러블 디바이스를 저장하는 저장소에서 영감을 받아 구상되었다. 미래 가상 인간의 웨어러블 뷰티 디바이스<I-META>를 상상하고 이를 조각 모형의 형태로 재현하며, 인간의 살과 같은 사실적 스킨 텍스처들은 조각에 함께 담겨 설치 공간에 함께 전시된다. 이 프로젝트는 상정된 디바이스의 모형과 화장실이라는 공적 공간, 인스타그램 필터를 통해 현재와 미래, 가상과 현실, 공적 공간과 사적공간의 경계를 탐구하는 작품이다.

.


The human aspiration for the perfect body is progressively becoming achievable through the development of science and technology. In contemporary Korean society, the constant pursuit of youth and a flawless appearance, coupled with our desire for the perfect body, becomes intertwined with the prevalent beauty standards and societal conventions of the time. This ongoing interaction consistently leads to the emergence of new beauty trends, services, and products. The digital space is no different. It mirrors these aspiration and trends. Today, the human desire for the perfect body is reflected in the emergence of digital humans with captivating appearances in the digital realm and is being mirrored by the widespread use of beauty filters in the realm of social media. The project <NeoTex Depot> starts from this context.

<NeoTex Depot> is set in a near future society where digital humans live. This fictional setting provides a spatial and temporal background for the project. The societal longing for a flawless appearance and the perfect body no longer exist in the future digital space, as virtual humans can choose any appearance they desire. Ageing and death do not exist in the digital realm, and there are no limits to altering one's innate physical form. Just with a simple click, the skins of humans can change variably. If a day comes when our bodies can be transformed even more freely, what new desires and values could emerge in the world of virtual humans? In this speculated scenario, how would the beauty devices used in today's life be transformed into different shapes?

<NeoTex Depot> starts from this context. The visual motif of the installation is inspired by a futuristic item inventory that stores wearable devices of digital humans living in a digital space. <NeoTex Depot> postulates a wearable beauty device for virtual humans in the future, then represent it in the form of a sculptural model, and realistic human skin textures are installed as part of sculptures in the public restrooms. Through the model of the device, public space and Instagram filter, this project explores the boundaries between the present and the future, the virtual and the real and between public and private spaces.







interactive web interface & social media filter






NeoTex Depot(2023) from Sora Park on Vimeo.





Men's 🚾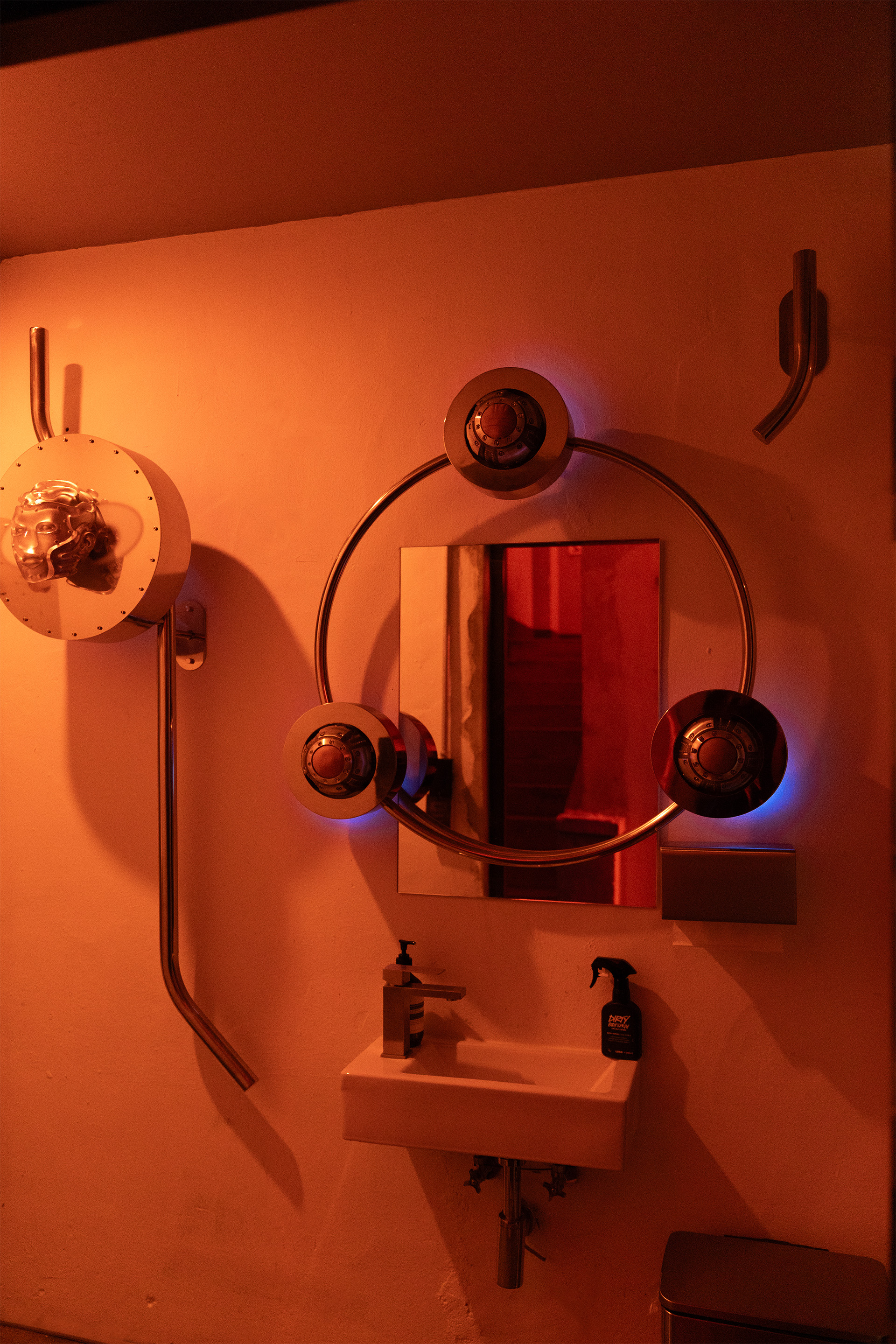 SCROLL DOWN TO SEE MORE WORKS︎